Short details:
Greeves Wessex, 1968
250 CC Villiers 37A Engine
Trial bike, road registered
Only in production one year – aprox. 120 pcs produced
---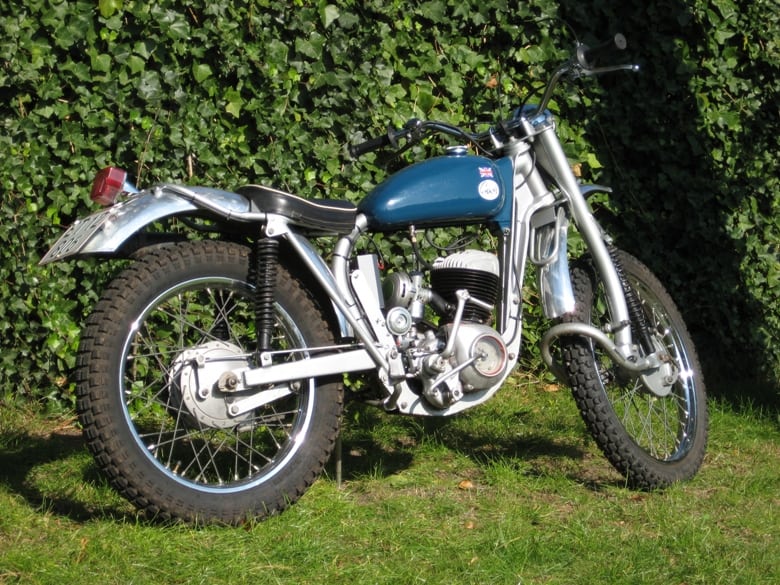 ---
Short Story:
I coincidently found this bike in the early 90'ies. It belonged to a kid that intended to use it in the fields, but he couldn't start it.
I had no idea what a Greeves was, but it was funny and British, so I bought it and hauled it home to my garage.
It stood there for a few years, and I still had no idea what this weird bike was, and no clue about where to get parts.
But as the interned spread out, I got in touch with the Greeves Riders association, and found out that the Greeves is a real gem and worth a full restore.
The restoration work took a few years, because everything was worn down or broken. The ignition and charging system was the hardest part, but with specialist parts from the UK, I got it back in running condition.
I had to add lights to get a road registration for it.
This bike is turning heads where ever it shows up, and I never got so much attention before by rifding a motorcycle.
I rode it occationally for 6-7 years, but as I never really used it more than a few times every year, it had to go.
---
Wht did I do to it:
Engine

Bearings
Seals
Bored to second oversize
Piston and piston rings

Clutch

Primary chain
Clutch plates

Gearbox

Bearings
General overhaul, including new 3rd gear wheels

Rear drive
Electricity

CDI ignition build into the original flywheel magnet
12 volt lights with hidden electronic reticifier/controller
Special bracket for battery, horn, and brake light swtch
Lights, horn, switches

Wheels
Misc.

Handle bar
Clutch and brake levers
Fenders
Silencer
Bead blasting and painting, including new tank transfers
---