Still crazy after all those years 🙂
---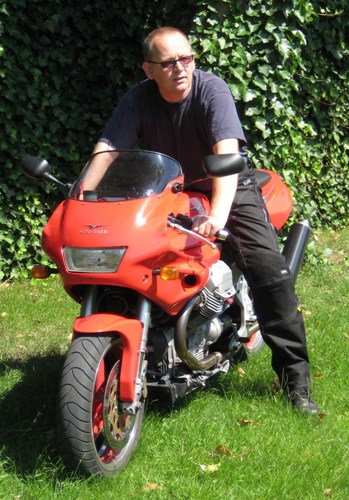 It all started when I was 13 years old. The neighbors son had a brand new Suzuki GS 850 and I was granted a trip on the rear seat. That was all it took to make me totally lost in motorcycles, and I wanted my own bike as soon as possible.
Unfortunately there's unpleasant things like laws and economics in the real world, so I had to wait a number of years which I spend making mopeds illegal (faster than 30 kmh).
When I got my drivers license, I managed to acquire enough money to buy an 11 year old Yamaha 200 cc, which I rode the first year of my motorcycle career.
Like all teenagers I dreamt of a huge motorcycle, that I could never afford, so what do you do ? I tried a lot of different options within the economical range:
Older/big bike
Newer/smaller bike
In this process I went through almost every type of motorcycle:
Standard
Touring
Sport
Off-road
Custom
Actually riding the bike was important to me: Some of my friends bought the biggest, most fancy, bike they could afford with no money left for gasoline. Not smart.
But to have enough money for all the trips it was out of the question to get a professional mechanic to fix the bike when something broke – I had to do it myself.
My initial feeble repair and maintenance attempts was not very succesful, but with time and a lot of practice I slowly got better at it. Today its become a matter of principle to keep the bikes running myself.
The first 10 years of my motorcycle career, I was riding between between 20.000 and 25.000 km a year. Japanese bike in the summer time, East German MZ in the winter. No car – no way !
But times are changing, and today I have family, a house, and even a car. But it's not all bad, because with the house came a proper garage with light, heating, and a radio. And I have spend many hours in the garage servicing and customizing my bikes. Quality time with your motorcycle is not a bad thing 🙂
For a number of years while the kids was small I was down to riding 8-10.000 kms a year, but the annual milage have been increasing as the kids grew up, and my wife have a motorcycle again after 15 years absence.
My first website was the guzzitech.dk site which contained a lot of technical information on Moto Guzzi V-Twins. I was running the site for a number of years, but the site is no longer active. If you are looking for the old guzzitech.dk information you can find an archived version of the site here.
In 2009 I founded the BoosterPlug company as a hobby project. (The BoosterPlug is a motorcycle fuel injection optimization device).
I'm still the owner of the BoosterPlug company, and with more than 60.000 units sold world wide, the small project have turned into a professional and international business.
But I'm still just as crazy about motorcycles as ever 🙂