SWM Superdual T.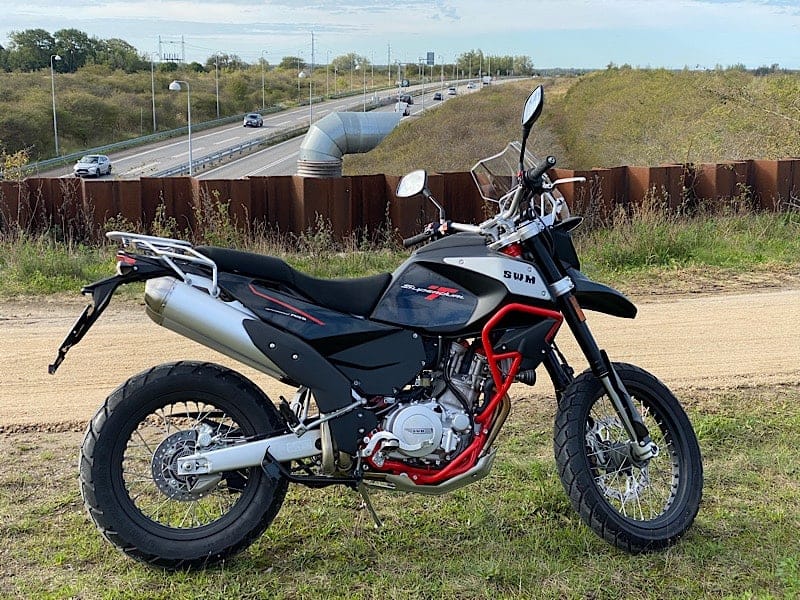 It was 25 years since I last had an off road bike, so I wanted to try a light "go anywhere" bike again. (The mighty KTM 1290 Super Adventure doesn't really count as an off-road bike"
There are loads of heavy road biased "Adventure bikes" available, but there are not many choices for a  light/simple/sturdy bike.
I was considering a Honda CRF250L, but it is rather pricey in Denmark for a 250cc bike.
At the other end of the scale there is the KTM/Husqvarna 690 and 701 models, to the AJP PR7, but they are way above the price I was willing to pay for a toy, and more race orientated than my skills 🙂
There are plenty of 20 year old 350/600/650 off-roaders for sale, but they are in general way too expensive for their age and condition, and I wanted to spend time on (or off) the road – not in the garage.
So there was no obvious choice until I was offered a brand new SWM 600 SuperDual T at the same price as a Honda CRF250L (or half the price of a 690 KTM).
The SWM comes with the old Husqvarna TE630 engine and is well equipped with Brembo brakes, wind screen, sump guard, upper and lower crash bars, fog lights, center stand, luggage rack, Givi Panniers etc.
55 HP and 170 kgs – what is not to like 🙂